First Annual RPA New Jersey Reception to Honor Former Governor James J. Florio, Gateway Development CEO Kris Kolluri & Recognize the Service of Maraziti Falcon's Joseph Maraziti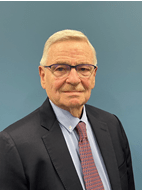 The First Annual Regional Plan Association New Jersey Reception is taking place on March 1st at the New Jersey Performing Arts Center in Newark. 
This namesake dinner will honor Former Governor James J. Florio, esteemed RPA Board Member and Co-Chair of the New Jersey Committee, for his insightful leadership and the enduring impact he had on public policy within the tri-state region.
During the reception, the Inaugural Governor James J. Florio Leadership Award will be presented to Kris Kolluri, CEO of the Gateway Development Commission. Additionally, our very own Joseph Maraziti will be recognized alongside other longstanding members for serving and advising the RPA NJ Committee for over twenty years.
RPA, the Regional Plan Association, is an independent non-profit civic organization that develops and promotes ideas to improve the economic health, #environmentalresiliency, and quality of life of the New York metropolitan area. RPA conducts research on the environment, land use, and good governance, and advises cities, communities, and public agencies.
For more info on the event visit https://rpa.org/events/the-first-annual-governor-james-j-florio-leadership-award.
Joseph J. Maraziti, Jr. represents both public and private sector clients in regulatory, transactional and litigation matters having local and national significance involving environmental and redevelopment issues. He has many years of experience representing public sector clients throughout New Jersey in redevelopment projects, condemnation, land use, real estate transactions and litigation in federal and state courts. He is well-versed in redevelopment law.