Maraziti Falcon, LLP brings decades of experience to the table in litigating construction, environmental, government, land use, redevelopment, and transactional matters on behalf of both public and private clients, at all levels of the State and federal court systems, including administrative tribunals. Our diverse practice allows matters to be handled by the same attorneys from inception through any related litigation, thereby promoting continuity, efficiency, and cost savings. Maraziti Falcon, LLP attorneys are well versed not only in litigation strategies but also the litigation life cycle and regularly handles such cases through pretrial discovery, motion practice and final resolution, including appeals.
Environmental
Maraziti Falcon, LLP has successfully litigated complex environmental matters, based in both equity and non-equity, and predicated upon the concept of strict liability within the context of the New Jersey Spill Compensation & Control Act and other environmental laws, including the Comprehensive Environmental Response Compensation & Liability Act. The Firm has served numerous public entities as Special Environmental Counsel in litigated matters and has also represented various types of private clients including property owners, developers, individuals, and small businesses such as gas stations and dry cleaners in insurance coverage disputes and cost recovery actions in both State and federal courts.
Government
Maraziti Falcon, LLP vigorously defends public clients in matters of procurement, construction claims, contract disputes and other matters arising under the Local Public Contracts Law, the Local Lands and Building Law, the Open Public Meetings Act and the Open Public Records Act.
Land Use
Maraziti Falcon, LLP represents both public and private clients in various types of land use matters, including actions in lieu of prerogative writs, arising under State and federal law, including under the Municipal Land Use Law, the rules and regulations of the New Jersey Department of Environmental Protection, and the federal Civil Rights Act.
Redevelopment
Maraziti Falcon, LLP has successfully litigated various matters on behalf of both public entities and private clients in connection with challenges to municipal Redevelopment projects undertaken pursuant to the Local Redevelopment and Housing Law, including challenges to the adoption of Redevelopment Plans, breaches of Redevelopment Agreements, and associated constitutional claims, such as "takings."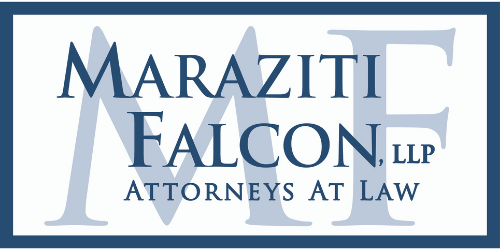 Address:
240 Cedar Knolls Road,
Suite 301
Cedar Knolls, New Jersey 07927
Phone
973-912-9008
Fax
973-912-9007